Whiting & Wedges
350g
490 Cal
Item Code: 058
Battered fillets of southern blue whiting served with tartare sauce, wedges, diced carrots, corn and peas.
This meal contains gluten.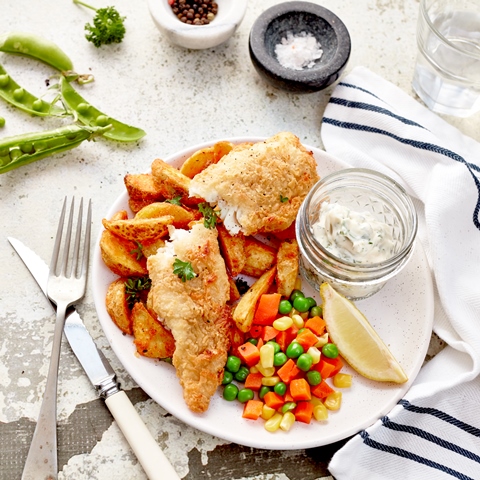 Whiting & Wedges
Ingredient Information
Fish 20% [Southern blue whiting, sugar, spices, salt, rice, flavour enhancer (621), food acid (citric), wheat flour, thickener (1420,1442), onion, garlic, celery, emulsifier (170), raising agents (341i,450i,500ii), yeast, soybean oil] potatoes [sunflower oil, potato starch, spices], carrots, corn, peas, thickened cream [geletine, vegetable gum (407)], water, gherkin, capers, parsley.
This meal contains gluten
Nutrition
| | | |
| --- | --- | --- |
| Servings Per Pack – 1 | Quantity | Quantity |
| Serving Size - 350g | Per Serve | Per 100g |
| Energy | 2049 kJ | 585 kJ |
| Protein | 26.5 g | 7.6 g |
| Fat - Total | 12.7 g | 3.6 g |
| - Saturated | 5.1 g | 1.5 g |
| Carbohydrates Total | 64.5 g | 18.4 g |
| - Sugars | 9.6 g | 2.7 g |
| Sodium | 1367 mg | 391 mg |
| Fibre | 6.9 g | 2.0 g |
| Gluten | Contains Gluten | Contains Gluten |
Specifications
Product Code
058
Weight

0.35

kg
Calories
490
Dietary Requirements
Fat Reduced - FR
Salt Reduced - SR
High Protein - HP
High Fibre - HF
Contains Gluten - G

Meat Type
Seafood