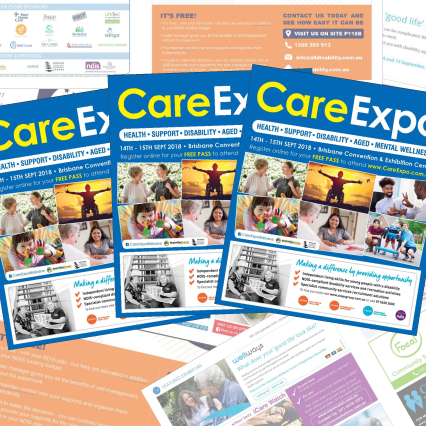 It is with great pleasure we announce our attendance at the Care Expo in Brisbane this Friday and Saturday, the 14th and 15th September. It's an exciting new event open to the public giving those needing extra support and care in their lives a great opportunity to seek services, providers and supportive businesses.
Exhibitors will be a diverse range of care and support services covering:
Aged Care
In-Home Care and Support
Government Agencies
Employment
Technology
Care Aids
Training
Mental Health
Not-for-profit Organisations
NDIS
Healthcare
Mobility Support
Disability Support
Family Support
Social and Recreation Services
Advocacy
Gourmet meals are proudly an approved provider for the National Disability Insurance Scheme (NDIS) supporting Australians with disability, their families and carers. The NDIS provides the support and care to 460,000 Australians under the age of 65 with a disability to assist in living an ordinary life. Depending on eligibility, our meals can be partially funded by the NDIS. With so many healthy menu items bursting with flavour, check out our menu today!
We are also an approved home care provider making it easier for our seniors to get wholesome, nutritious meals delivered through their home care package. Gourmet Meals have been looking after the health and nutrition of our senior community for more than 2 decades now and happily offer local and personalised service standard with our meals.
Join us at the Care Expo in Brisbane to have a chat to our friendly team about our meals and the meal delivery service from Gourmet Meals. We will be hosting a stand with scrumptious dessert samples on offer, meal vouchers and a chance to win $100 worth of Gourmet Meals. See you there!
Tags: Care Expo 2018, Care Expo Brisbane, Approved NDIS Provider, Approved Home Care Provider
Related Articles