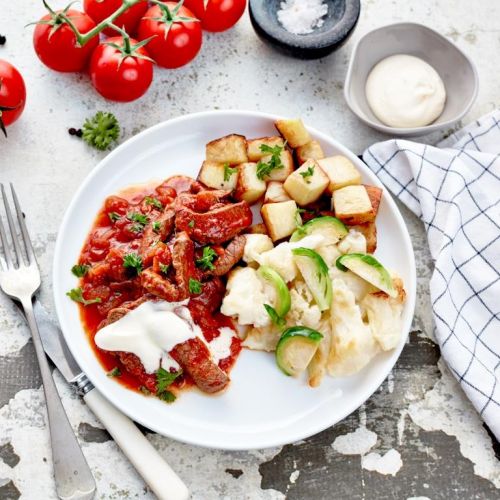 Gourmet Meals is turning up the heat this winter! From the main course to dessert, our winter specials are guaranteed to get you excited for the colder days ahead.
Dine out less and stay cosy at home with these nutritious and delicious, heart-warming dishes from our winter menu:
Need something to brighten up the season? Try our 'Cajun Barramundi and Prawns' with tomato sauce, rice, asparagus, broccoli, and green beans; or our famously delicious 'Creamy Beef Patties' with creamy mustard sauce, served with mashed potato, green beans, and broccoli.
Our chefs have put together a hearty 'Beef Goulash', slow cooked in an aromatic sauce, served with roast potatoes, Brussels sprouts, and a creamy cauliflower bake. For that ultimate winter comfort food, be sure to order 'Honey Mustard Chicken' with diced vegetables, roasted potato, and sweet potato.
For all you traditional festive lovers out there, you can't go past our tender 'Slow Cooked Lamb', off the shank bone in rich gravy, with creamy mashed potato, carrots, and peas; or our authentic 'Tandoori Chicken', served with creamed spinach and basmati rice; and last but not the least, our tender and special 'Pork Roast', served with applesauce, potato wedges, broccoli, carrots, and cauliflower.
When you have finished a satisfying dinner, there's no reason for you to finish your dessert quickly. Take your time in enjoying our winter desserts that are sure to warm you right up! Help yourself with our popular and comforting creamy 'Rice Pudding', made in a traditional way; or our 'Apple and Rhubarb Crumble', served with custard and topped with a sprinkling of sweet crumble.
Check out our winter flavours here—available until the end of August only or until stocks last.
So beat those cold weather blues and place your orders now!
Tags: Healthy Meals Delivered, Winter Menu, Heart Warming Dishes, Winter Comfort Dishes, Satisfying Meals, Winter Dishes, Winter Desserts, Cajun Barramundi And Prawns, Beef Goulash, Tandoori Chicken, Apple And Rhubarb Crumble
Related Articles