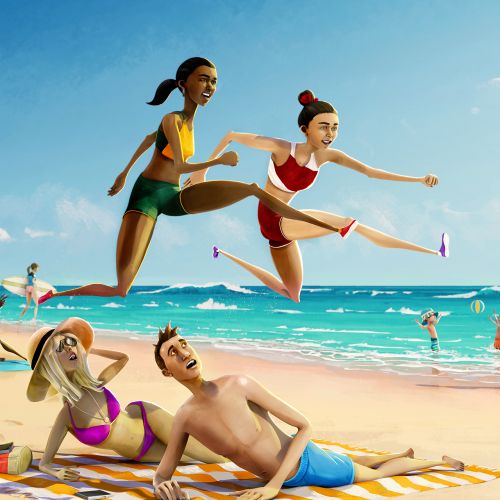 It's an exciting time for our home town, hosting the Gold Coast 2018 Commonwealth Games (GC2018) from April 4-15. It will be the largest sporting event Australia will see this decade and the biggest sporting spectacular the Gold Coast has ever seen. The city will shine on the world sporting stage and the promotional exposure for business, trade, investment, tourism and events will herald a new era in the region's growth and maturity.
Here are Gourmet Meals, we're just as excited as you are! While excitement is building, the reality of having 6,600 athletes and team officials from 70 nations and territories converging on the Gold Coast for an 11-day sporting and cultural event, is starting to set in. Logistics of navigating around town as normal may be impacted, with road closures and more cars on the road than normal, so Gourmet Meals would like to save you the inconvenience of being stuck in traffic jams on the way to the supermarket and deliver chef-cooked meals direct to your door. Our home-delivered, healthy snap-frozen meals means there's no need for you to venture out into the chaos during the Games. Unless of course, you'll be a spectator at one of the many events!
In keeping with the spirited and health-conscious athletes competing in the Games, our meals are prepared using the freshest ingredients and meet all dietary requirements. Choose from delicious and nutritious spring-inspired meals such as Honey Soy Chicken on a bed of tasty stir-fried rice which is low fat, salt-reduced, high in protein, gluten-free and high-fibre; and Barramundi with Lemon and Dill, served with cauliflower, broccoli, carrots and basmati rice. This deliciously light yet satisfying seafood meal is fat-reduced, salt-reduced, high in protein, gluten-free and high in fibre.
During the busy Games period, we would suggest that you give us as much notice as possible to ensure your meals reach you by the desired date. Certain areas we may not be able to access however, so in order to avoid any disappointment, we'd love you to stock up and place your order at least 1-2 weeks before the games commence.
As the first regional Australian city to ever host a Commonwealth Games, the Gold Coast will celebrate a great Games in a great city leaving great memories and great benefits for all.
Gourmet Meals is ready for the action and will have you fighting fit with healthy meals delivered to your door. Place your order now and get set for the Games!
Link: https://gourmetmeals.com.au/eshop/All-Meals/
Tags: Get Set For The Games, Commonwealth Games Gold Coast, Road Closures Gold Coast, Meal Delivery, Frozen Meals Delivered
Related Articles