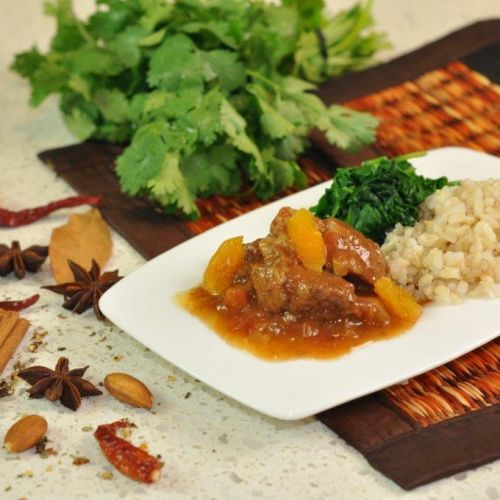 Our new menu has arrived and it really packs a punch! Just in time for winter, it boasts a large variety of new and modern flavours that you're bound to love, with dishes inspired from Asia, Morocco, Mexico, Thailand and more.
Some of the menu options include:
Slow-cooked Asian pork with rice noodles, Asian greens and shitake mushrooms
Beef tagine with spinach slow cooked in a blend of Moroccan spices and brown rice
Chicken in a chili tomato sauce, capsicum, corn and brown and basmati rice
Tender slow-cooked peppercorn beef with garden vegetables and mashed potato
Chicken and prawn laksa noodle dish
Barramundi with lemon dill sauce
Black mushroom barramundi topped with mushrooms, capsicum and capers with spinach and mashed potato
The menu items are substantial and satisfying, just like home cooking – which is no doubt exactly what you're yearning for during the cooler months.
All of the large meals have grown in weight, but not in calories. We've achieved this by reducing the amount of fat and carbs, and increasing the amount of vegetables – making them healthier than ever.
Everything on the menu is salt-reduced, high in fibre and protein; and there are even a number of dairy-free options available.
What's more, we pride ourselves in having an entire range that is gluten free. That is – every single meal offered by Gourmet Meals is 100% gluten free.
We are meticulous in ensuring that our entire production area is completely free from gluten to provide peace of mind to customers with coeliac disease, gluten sensitivities or intolerances.
Our meals have no added preservatives, or artificial flavours and colours. So you can rest assured knowing you're consuming nothing but healthy nutrients and natural flavours.
The new menu is filled with great tasting meals that are nutritionally balanced, while also being full of international flair – with options to suit all tastes.
Check out our menu today to discover the delicious meals that can be delivered straight to your door at a competitive price.
https://gourmetmeals.com.au/files/menu_may_2016.pdf
Tags: New Menu, Low Carb, Low Fat, Meals Delivered
Related Articles