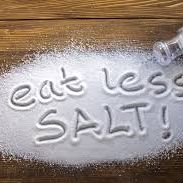 Whether you're working full time, a busy parent, or younger adult with a hectic social calendar – it can be hard to keep track of your average salt intake and maintain a healthy diet.
But a high intake of salt often leads to increased blood pressure and the risk of heart disease for you and your family.
Sadly, there are often no visible signs of high blood pressure, which means many people don't even know they have it.
Despite being unable to see or feel it, it is certainly a health risk to be taken seriously.
Other than high blood pressure and heart failure, high salt intake is also commonly associated with conditions such as kidney stones, fluid retention, strokes and osteoporosis.
Reduce your risk by making healthier choices each day, and the first step is avoiding processed food.
Seventy-five per cent of our salt intake comes from packaged and processed foods we eat daily such as bread, cereals, processed meats, cheese, sauces and spreads.
High levels of salt are also added to foods such as packet soups, pies, sausage rolls, sausages, processed meat, pizzas and frozen meals.
For a healthy heart – and to improve your health in general – make the switch to Gourmet Meals.
Not only will you be able to eat a variety of dishes that are salt-reduced and fat reduced, but you'll save time at the supermarket as well as cooking and cleaning at home.
We can help you eliminate processed foods, excessive sugars, fats and salt in your meals.
Our meals are packed with fresh whole foods and vegetables and are all high in fibre and protein, and 100% gluten free.
Check out our menu today to discover the wide range of healthy meals that can be delivered straight to your door and start eating your way to a healthier heart.
Tags: Reduce Salt Intake, Healthy Heart Recipes, Frozen Meals, Meals Delivered
Related Articles