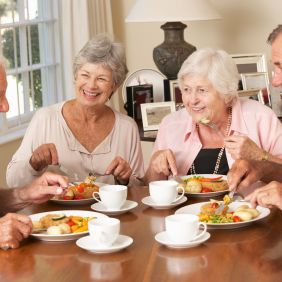 The recent increase in gas and electricity prices is concrete evidence that the cost of living in Queensland is growing at a rapid rate, making it more difficult for seniors to live independently in their own homes. That's why Gourmet Meals is campaigning for more ways to help older Australians be budget conscious when it comes to their meals.
Since the new legislation changes were made to the Government Home Care Package Program earlier this year, funds can now be allocated to meal delivery services. A senior's weekly budget can be put in place and a government subsidy is paid in conjunction with that, provided the company is health accredited. Gourmet Meals is fully accredited and trusted by Care Connect, Blue Care, Transition Care, Oz Care, Anglican Care and many more.
We are committed to providing seniors with delicious meals that are nutritionally balanced, individually portioned, easy to prepare and delivered directly to their doorstep. Our huge selection of low fat, fat reduced, low salt, salt reduced, high fibre, high protein and dairy free options make it easier than ever for older generations to eat hearty main meals from as little as $6.50. We help aged care providers offer in-home services and meal management to ensure every individual has access to a healthy, wholesome diet.
Gourmet Meals was recently featured on 9 News Gold Coast for its contribution towards helping the over 65s and their carers cut the costs of healthy living. We think that more dietary requirements shouldn't mean a higher price band, which is why we will always provide tasty, healthy meals at affordable prices.
Take a look at our menu to see the wide range of meals that can be accessed through the Home Care Package Program via numerous service providers.
Tags: Government Home Care Package Program, Seniors Nutrition, Meals For Seniors, Aged Care Meals, Government Funded Meals For Seniors
Related Articles