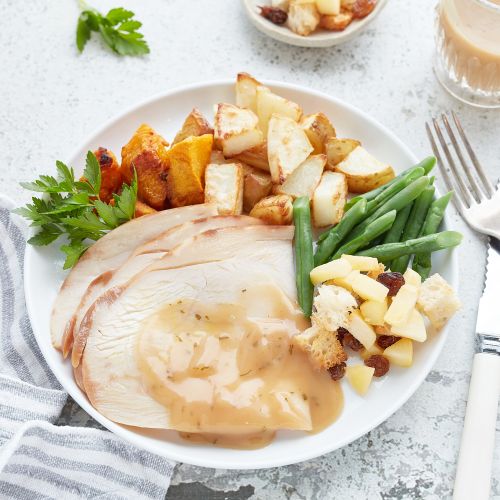 Christmas dinner is a wonderful time of year to gather with family and friends, and, it is also the best time of the year when you can express your love for them through the medium of great food.
While we can all agree that Christmas calls for something special, it could also mean being stuck in the kitchen all day long. But who said cooking Christmas dinner has to be hard?
If you're in search of no-fuss dishes to create the holiday meal of your dreams, you've come to the right place.
With Gourmet Meals's new range of Festive Flavours, we've got Christmas dinner covered. Prepared by professional chefs who use only the finest and freshest ingredients, our holiday-ready main dishes and desserts are guaranteed to add sparkle to your holiday spread this season, without all the time and stress.
Whether you're looking for something casual or upscale, you're certain to find something for everyone on our Christmas Menu. Our favorite crowd-pleasing dishes like 'Pork Fillet with Prunes', 'Turkey Breast', and 'Salmon Fillet' will surely stand out on your family's holiday table. For something extra special, be sure to try our glazed 'Ham & Turkey', served with gravy, potato and sweet potato bake, pumpkin, and Brussels sprouts. Melt away your holiday troubles by taking a bite of our sinfully delicious desserts, such as the beautiful and oh-so memorable 'Cherry Cake and Custard', filled with cherries and walnuts.
Like every Gourmet Meals dish, Festive Flavours caters to different customers' special dietary needs. This way, you can truly enjoy our easy festive meals, knowing that they're just as delicious and nutritious as all the meals we offer all year round.
Special Christmas Offer
As a special gift for Christmas, you'll receive one free meal up to the value of $9.90 for every $85 spent. Simply mention the code XMAS21 to take advantage of the offer. This promo runs from 22nd November to 23rd December 2021 and certain terms and conditions apply.
No need to worry about serving the same Christmas dinner-- because this year, you, and your guests, will all have the opportunity of feasting on something very special. Get your order in today while stocks last. Call 1300 112 112 (Mon-Fri 9am-4pm) or order online here.
Holiday Hours
Gourmet Meals will be closed as of midday on Friday, 24 December 2021 and will re-open on Tuesday, 4 January 2022. Make sure to get your orders in today to avoid the last-minute cooking chaos!
Wishing you and your family love, peace, joy, and good food this holiday season!
Tags: Christmas Promo, Christmas Offer, Christmas Meals For Seniors, Gluten-free Christmas Meals Delivered, Frozen Meals, Healthy Christmas Meals
Related Articles