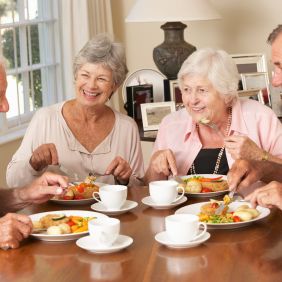 With Seniors Week upon us, all of the team at Gourmet Meals would like to thank our seniors for their ongoing support and the important role they play in the community. We are proud to be a preferred supplier of nutritious and delicious frozen meals to the aged community through many leading service providers of home delivered meals such as Oz Care, Anglicare, Care Connect, Transition Care and Blue Care.
Why our meals are so popular with the aged community
Our healthy frozen meals are reasonably priced, wholesome and taste just like home cooking, which is why our menu continues to be popular with the aged community. All of our meals are nutritionally balanced, portion controlled and simple and easy to prepare. We understand the different dietary needs of our aged clients and offer dairy-free, low salt and fat, gluten-free and high-fibre and protein alternatives, catering to all intolerances, allergies and preferences. There are also vegetarian meal options available.
Large meal selection combining new dishes and old-favourites
Our chefs are dedicated to providing seniors with a wide and varied menu that caters to all tastes. We offer a vast selection of meals, soups, desserts and sides and update the menu regularly so that there are always new and exciting dishes to try. There are also many old favourites to choose from such as our roasts, beef goulash, cottage pie, corned beef, bread and butter pudding and apple and rhubarb crumble.
Contact us for home delivery
Our delivery service ranges as far south as the Northern Rivers and north from the Gold Coast to Brisbane, including the outer suburbs such as Caboolture and Ipswich. Call us now on 1300 112 112 to find out more about our delicious ready-made frozen meals or arrange for home delivery.
Tags: Seniors Week, Approved Aged Care Providers, Meals For Seniors, Meals Delivered, Frozen Meals For Seniors, Gluten Free Frozen Meals
Related Articles