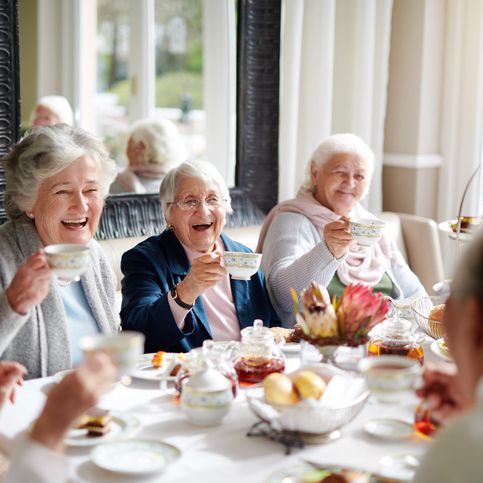 Making the decision to move into a retirement community can be difficult. It's a time of life-changing options and possibilities, and oftentimes, the fear of the unknown keeps you from seeing the valuable benefits that come with it. So today, we created a list of the wonderful things that you can look forward to if you decide to embrace retirement village living.

A sense of community
Research shows that your networks of relationships support your positive physical, mental, and emotional health. Moving to a retirement community gives you plenty of opportunities to make friends, form companionships, and connect meaningfully with people who share similar interests.
Extensive social and leisure facilities
Retirement communities nowadays are designed to create an atmosphere that is less institutional and more like home. Typically, a retirement village provides shared facilities like manicured gardens, function rooms, and activity areas. There are retirement communities, however, that promote a more luxurious lifestyle and offer additional amenities such as swimming pools, tennis courts, cinemas, and beauty salons. All these with your comfort, convenience, and enjoyment in mind.
Fun activities to keep you active
Because of the accessibility of various amenities that are free to use, people tend to become more physically active when moving into a retirement village. Retirement communities also encourage participation through various social activities like exercise classes, Zumba, swimming, movies, cooking, musical nights, and bus trips. This kind of lifestyle increases your level of social activity while keeping you fit and healthy as you age.
Convenience
Living in a retirement community means living without the stress of keeping up a house. You don't have to worry about home and yard maintenance, or deal with the financial burdens of home ownership as these are handled by the staff.
Safety and peace of mind
Many retirement communities are protected with gates and/ or staffed by security guards to offer strong security for you and your home. Additionally, retirement homes are often equipped with hand railings, non-slip mats, and motion-sensor alarm systems to make it easier and safer for you to move around. In case of falls or accidents, some have access to medically trained staff that are available at any time to provide immediate help.
You may read more about the benefits of moving into a retirement community here. Australian Over 50s is your information guidebook on living and celebrating life in your 50s. It offers a variety of articles on hobbies that you can take up, tips for a better sleep, healthy living facts, and holiday recommendations, to name a few.
If there is one thing that contributes more to the quality of life of those living in retirement communities, it's the availability of delicious home delivered meals. Gourmet Meals are able to deliver wholesome and nutritious meals to all retirement villages within its delivery area. Check out our menu to see the list of our healthy and great-tasting dishes.
Limited-Time Offer: Up to $9 Off on Our BUNDLE DEAL
If you live in a retirement village within our delivery area (Northern Rivers, Gold Coast, Ipswich, Brisbane, up to Caboolture), you're eligible for our great BUNDLE DEAL! Get any 7 regular meals plus 2 desserts for a special price of $49 (excluding $7.50 delivery fee). That's a saving of up to $9!
This special is only available until 30th June 2021, so don't miss out and call 5529 3000 to place your orders! Don't forget to use the promotional code "BUNDLE49"!
We hope to hear from you soon!
Tags: Benefits Of Retirement Living, Retirement Communities, Meals For Retirement Communities, Frozen Meals Delivered, Senior Meals Delivered
Related Articles