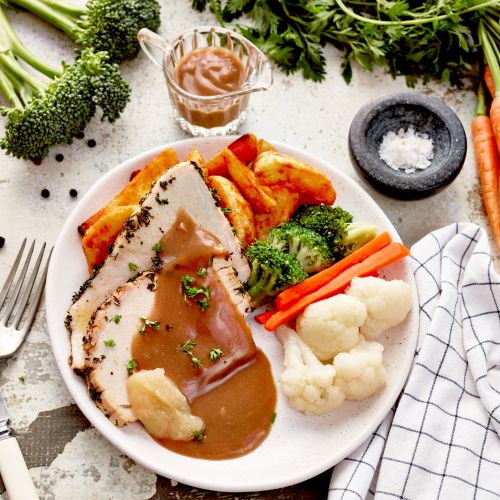 During this time of year, we all notice the drop-in temperature and start to crave different taste sensations as well as warm, hearty meals. It's also the time of year where we like to hibernate a little and not have to go grocery shopping as often or duck out for 'one or two' ingredients we need to make the dish we had in mind to satisfy our hankerings.
There is nothing worse than thinking you have everything you need at home in the kitchen to whip up a nice Winter dish, to then finally arrive home and find that the dish you intended on cooking needs more ingredients. Who really wants to go grocery shopping after a hard day's work? That's where stocking up on some healthy Winter warmers and home style cooked meals from Gourmet Meals can be one of the best things you do this Winter.
Mouth-watering casseroles are sure to satisfy your taste buds this time of year. Some of our favourites are your choice of chicken, beef or lamb casseroles. Our roasts are also very popular with a selection of beef, lamb and pork on offer. Other dishes to warm you up this Winter are curry prawns and lamb curry plus many more.
With our portion-controlled meals, it makes it easy to maintain a healthy weight during the cooler months. Research shows that we do feel hungrier as Winter draws near, our appetites seem to change as the days grow shorter. The research says it is our primitive impulses encouraging us to stockpile calories for the cold Winter days that lay ahead.
Some studies show that people eat about 200 calories per day more in Winter than during the warmer months. This is due to a number of factors, such as less light for example, encouraging us to seek food and eat it faster during shorter days; people are also less inclined to go outside and exercise as much during the colder months and more tempted to stay in bed longer, all things that lead to a reduction of calories burnt.
Now that we know how the cooler weather can encourage us to eat more than we need, why not give yourself peace of mind by ordering Gourmet Meals for yourself and your family. Knowing the exact nutritional value of your meals is advantageous this time of year to keep track of what you are putting into your body. All of the Gourmet Meals can be sorted by number of calories, low fat, low sugar, high protein, dairy free, gluten free, low salt and high protein – so easy! Wholesome and nutritious meals delivered straight to your doorstep without even leaving home, just a few clicks or a phone call away. Phone 1300 112 112 or visit Gourmet Meals to place your order now.
Tags: Winter Meals, Winter Recipes, Frozen Meals Delivered, Portion Controlled Meals Delivered, Healthy Meals Delivered, Winter Meal Ideas
Related Articles