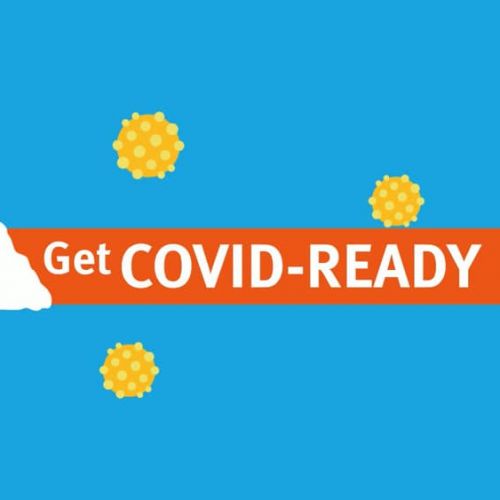 Experts warned of a coronavirus surge as families gathered for the Christmas holidays, and it's unfortunate, that we Queenslanders had to experience this "spike" for ourselves. We ushered in 2022 with rapidly increasing COVID-19 cases (10,332 new cases as of 6 January compared to just a hand full at the beginning of December), although authorities believe that this number will still go up as more and more cases are yet to be confirmed in the coming days.
With the number of cases and hospitalisations rising again, how can we stay safe out there, and what steps can we take to get COVID-safe?
As a locally-based company, Gourmet Meals recognises the importance of containing the pandemic and protecting not just our customers and our staff, but also the community at large. In that spirit, we'd like to share 10 things you can do to navigate through COVID's latest surge, ensuring that you and your loved ones are protected as best as possible.
1. Get vaccinated and get a booster dose for increased protection against infection and severe outcomes.
2. Utilise your Check In Qld app by checking in every time you arrive at a business, venue, or event. This way, you can easily be notified if you've recently been to an exposure site.
3. Keep a distance of at least 1.5 metres from others and wear a mask.
4. If you develop even the slightest symptoms, get tested and isolate. This helps in detecting and stopping asymptomatic spread.
5. If you test positive for COVID-19 or you are a household/ close contact of a diagnosed COVID-19 case, make sure to quarantine at home or in a private residence as required to prevent passing it on to others.
6. Be prepared by staying informed about COVID-19. A big part of this is knowing where to turn for timely, consistent, and reliable information. Bookmark Queensland Government's All Queenslanders: COVID-Ready and follow only trusted sources on social media.
7. Complete a COVID Care Plan in case you get COVID-19. Having one in place will help the health worker or your doctor understand your health care needs and decide on the best care for you.
8. Prepare your Get COVID-Ready kit. This kit contains the essentials that you need if you're isolating at home.
9. If you have any health concerns or conditions that require you to see a doctor, it's important that you go. Now is not the time to put your health on hold.
10. Follow general good-health guidelines (i.e., eating nutritious foods, exercising, getting adequate sleep) to keep your immune system up to speed in fighting infections and diseases.

Gourmet Meals has implemented a COVID-19 Policy in order to ensure the highest quality and safety of every meal that we prepare, while protecting the people that we care for. This plan includes infection prevention, safe systems of work, and strict hygiene policies.
In line with this, we encourage cashless payments to eliminate the need for close contact between our delivery drivers and our customers. We also offer contact-free deliveries by placing the meals in ice boxes that can be left at the front door.
As part of your preparation plan in the event of having to isolate, make sure you have enough food in the house for a period of at least 10 days. Frozen meals are ideal and Gourmet Meals are the perfect solution. To see our menu please visit www.gourmetmeals.com.au or give us a call on 1300 112 112 to place your order now.
Tags: Covid Gold Coast, Covid Brisbane, Covid Ready Plan, Frozen Meals For Isolation, Contact-free Delivery, Frozen Meals Delivered, Meals Delivered
Related Articles