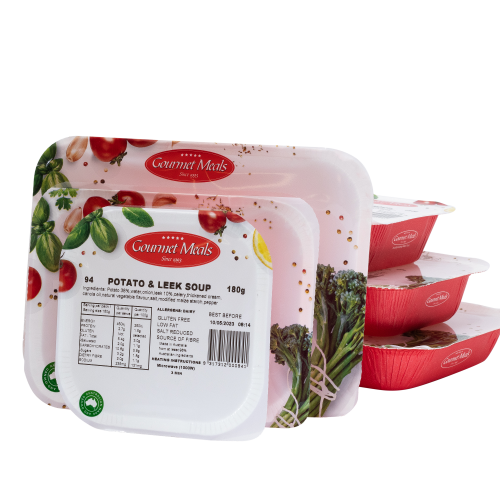 Here at Gourmet meals, we always strive to make things better for our valued customers. And safer.
We are proud to introduce our new-look packaging for our delicious and healthy meals! Bright and fresh and clean looking, our new packaging design reflects our lifelong mission of empowering people to live brighter lives by serving them freshly made food, without the hassle.
In recent years, consumers have become increasingly aware of the effects of certain products on their bodies and the world around them. As a family-owned company, we share the same thoughts about making sure the people we care about are safe and protected.
As more green materials become available, Gourmet Meals constantly keeps its products up to date and aligned with what consumers want and have come to expect; this includes improving the environmental performance of our packaging. Apart from keeping food safe and fresh, our new packaging is focused on minimising its impact on the environment.
One of the main materials that we use in packaging our meals is cardboard. Cardboard trays are an eco-friendly alternative to plastic and aluminium, as cardboard is said to have the least environmental impact, is recyclable, and has a high biodegradability rate. We also find that it's ideal for food packaging because of its ability to keep the contents "food safe" and retain its quality for longer.
Additionally, the lidding film that we use to seal our food trays can be recycled, thanks to REDcycle's recycling program. Simply take the soft plastics that you have collected at home, including the Gourmet Meals' tray lids, to a partnering supermarket and deposit them in the REDcycle bin.
We believe that being a responsible business also means being sustainable. If we can make our food packaging just as good for the planet as the meals are for one's health, then we can say that we are actually making a positive difference.
Tags: Sustainable Packaging, Delicious And Healthy Meals, Snap-frozen Meals, Healthy Meals Delivered, Healthy Dinner Delivered, Gluten-free Meals, Balanced Diet, Gourmet Meals, Well-balanced Meals, Healthy Dishes, Portion-controlled Meals, Meals Delivered Contact Free, Eco-friendly Packaging, Environmental Food Packaging
Related Articles