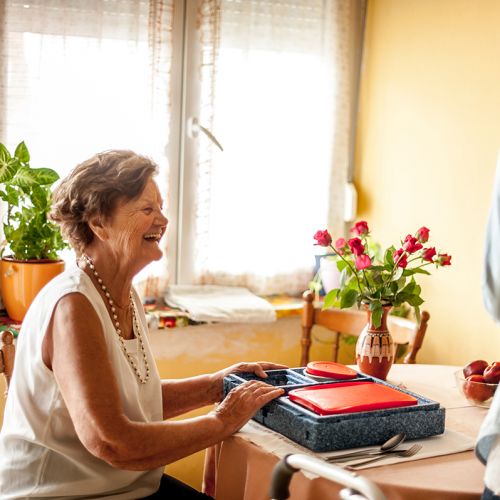 At Gourmet Meals we have some delightful customers, know them all by name and their general health and well-being, and of course all about their wonderful families.
Gourmet Meals are a locally owned and operated business built on old fashioned values. We've learnt a thing or two about our customers over the past 25 years and pride ourselves on the personalised service we provide.
We value our customers from the time they place an order with our friendly team to when the meals arrive. Our drivers, both men and women love to have a chat with our customers each and every week. Discussions are often had about their favourite dishes and other topics of week whilst the meals are carefully put away in the freezer.
Our customers look forward to seeing their regular delivery driver and the conversation it brings. It's an opportunity to check in and see how they are doing. Our drivers will often do the odd thing or two for our customers such a lift some heavy items or lend a hand when necessary.
Our personalised service and care factor is unparalleled as our competitors are all based online and use couriers to deliver their meals.
At Gourmet Meals we are not just a meal service, we are the friendly voice on the phone and regular drivers who care. A lot of our customers still prefer to call and run through the menu items with the team not to mention the general chit chat.
Discover what service means again and give Gourmet Meals a call on 1300 112 112 to find out more about our ready-made delicious frozen meals. Experience an array of nutritious meals delivered to your door to support a well-balanced diet. We deliver from Northern Rivers to up Brisbane including Caboolture and Ipswich.
Tags: Meals Delivered, Meal Delivery Service, Frozen Meals Delivered
Related Articles