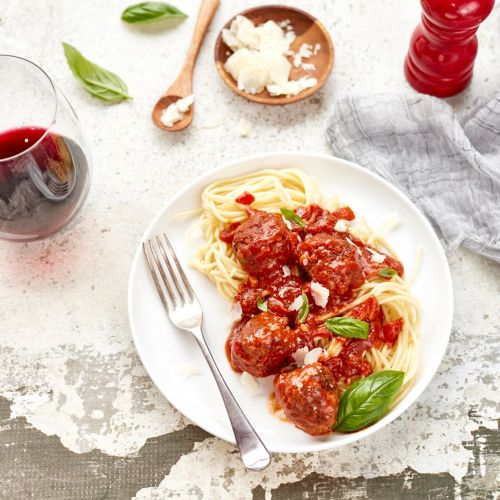 Variety is the spice of life
One of the many things our customers love about Gourmet Meals is the great variety of delicious meals that we have on offer.
At any one time, there are 49 different items on our menu to choose from, ranging from large to regular size main meals, side dishes, soups and desserts. In addition to this, we always have Chef's Specials available on a regular basis, offering a scrumptious alternative for those of our very regular customers.
The Chef's Specials for the month of June are a mouthwatering Roast Chicken and a Spaghetti with Meatballs. The Roast Chicken Breast is served with a lovely thick gravy, garden vegetables and a creamy potato stack. The Spaghetti Meatballs comes with a beautiful tomato-based sauce served with spaghetti and topped with a sprinkling of cheddar and parmesan cheese. Perfect comfort food for these cold winter nights!
Something else to look forward to, is our scrumptious Winter Promotion Menu which will be available from the middle of July for a limited time only. During the promotion period, not only will there be a wonderful selection of mouth-watering meals to choose from, but also two heart-warming desserts sure to please the most discerning of palates. A fantastic offer of "any free meal of your choice" will be given for any order over $80 excluding delivery. But more on the Winter Promotion in our next blog..
So why not check out our menu and see what delectable meals you would like for your next order. You can download our menu here https://gourmetmeals.com.au/files/gm_menu_jan_2018.pdf, or call our friendly office staff to get them to send you a hard copy of our menu. Make sure to ask for our specials click here
We look forward to hearing from you soon.
Tags: Frozen Meals, Meal Variety, Best Frozen Meals, Frozen Meals Delivered
Related Articles