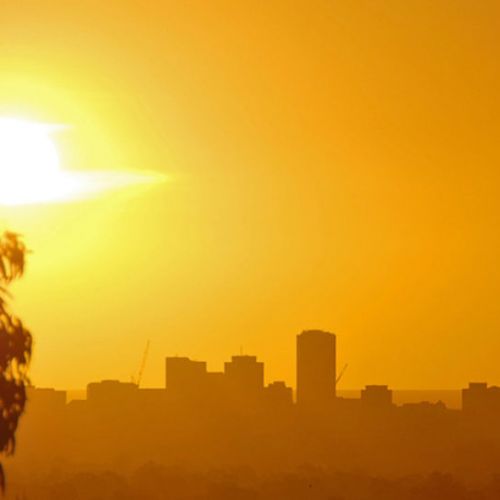 Beating the Heat this Summer
Australia is a beautiful country and, without a doubt, one of the most liveable, however, we do experience some extremely high temperatures at times, especially during the frequently occurring Summer heat waves.
During extreme heat, people can very easily become dehydrated and their bodies can overheat. Signs of this are cramping, exhaustion or, in some cases, heatstroke and existing medical conditions worsening.
Surviving in the heat relies heavily on planning for these weather events and knowing what to do when the heat reaches unbearable levels. Extreme heat doesn't exclude anyone, it affects the young and the healthy as well as those at higher risk.
People who are in the high-risk zone:
The elderly aged over 65, especially those living alone
People with medical conditions such as diabetes, kidney disease or mental illness or those taking medications that may affect the way the body reacts to heat such as:

allergy medicines (antihistamines)
blood pressure and heart medicines (beta-blockers)
seizure medicines (anticonvulsants)
water pills (diuretics)
antidepressants or antipsychotics
The disabled and people with mobility issues such as those who are bed bound or in wheelchairs
Pregnant women and breastfeeding mothers
Babies and young children
Overweight or obese people
Those working or exercising outdoors
Or people who may have recently arrived from cooler climates
People suffering from alcoholism or drug abuse
Coping with the heat
If it's just one hot day, a heat wave or extreme heat, here are some things to remember:
Drink plenty of water
Keep your body cool by having cool showers and by putting your feet in cold water
Stay indoors and head for air-conditioned places such as shopping centres, libraries and community centres
Use blinds and curtains to block out the sun
Make sure all windows are open when there is a cool breeze
Avoid the sun, especially during the hottest part of the day, and cancel or postpone outings
If you have to go outdoors wear a hat, sunscreen and stay in the shade and take plenty of water
Choose loose fitting, light coloured clothing made from natural fibres such as cotton and linen
Eat small, portion controlled meals
Keep a close eye on food temperatures and ensure all cold foods are refrigerated to avoid food poisoning
Avoid vigorous exercise, sports, renovating and gardening
In the event of extreme heat, stay connected to news sources for regular updates
Having a stock of portion-controlled Gourmet Meals in the freezer will most definitely assist with the temperature control of foods in your kitchen, and minimise any chance of food poisoning. Gourmet Meals go straight from our pot to the blast freezer where they are snap frozen. They are delivered frozen and are stored in your freezer straight away. Getting the Gourmet Meals from your freezer to the microwave is the only thing you'll need worry about, keeping the entire family healthy and safe during the heat waves of our harsh Summer.
Tags: Frozen Meals, Frozen Meals Delivered, Gluten Free Meals, Gluten Free Meals Delivered, Heat Wave, Summer
Related Articles