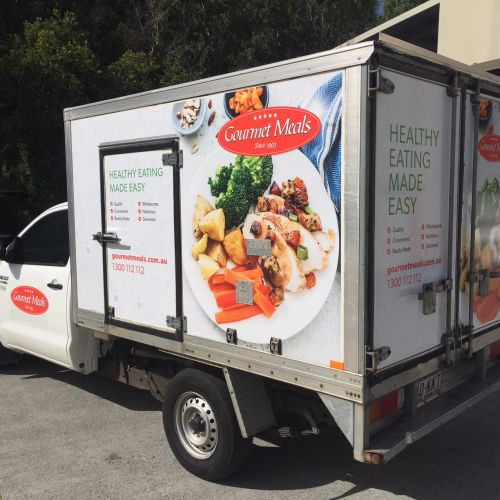 There's no better feeling than a makeover or a fresh new look, and that's exactly how we're feeling about our delivery trucks. With our fresh new look, our valued customers can expect to see our trusted, friendly drivers, some who have been with us for up to 12 years! We really love the way our drivers look after our customers and are proud to let everyone know just how wonderful they are. They are never seen as just 'the delivery truck driver' in fact, most of our customers look forward to their weekly chat with our drivers who not only deliver our delicious, home style cooked meals, but they also pack the meals away into the freezer knowing that it can be a real challenge for the elderly to undertake this task alone.
Our drivers are more than just a delivery driver, having been part of the company for so long and having established a really close relationship with many of our customers, they are a crucial part of our team. They are the 'face of the business' and are always out there to offer a smile, some kind words and often a helping hand to our customers who look forward to greeting them when they arrive at their doorstep with their weeks' supply of meals. It is not unusual for the driver to change a light bulb, to offer a hand to move something heavy or to do something outside their line of duty for our elderly customers. It's the personal touch our drivers provide which makes Gourmet Meals stand out from the others.
With a fleet of 4 trucks, our delivery is offered 5 days a week with the delivery areas between the Northern Rivers, through the Gold Coast, Ipswich, Brisbane Outer suburbs up to Caboolture. We can also arrange deliveries from Lismore to Alstonville to Ballina and Chinderah, please contact our office for further details 1300 112 112.
There is a delivery fee of $7 with a minimum order of $49, but for orders over $200 the delivery is free. We also offer an ice box service, should you not be home; the icebox will keep the meals frozen for up to 6-7 hours, there is no additional fee for this! We service each suburb once a week, and in case of an emergency, can organise a special delivery by a courier company should the customer need the meals sooner. There is also no extra charge for the courier service.
There are not many other ready meal delivery companies that offer the type of service that we do at Gourmet Meals. We differ from many of the others who engage outside contractors to deliver the ice boxes, which are then just dumped outside the front door without any personal contact whatsoever. Many of their customers can't even bend over to lift the box, let alone carry it or put it away. We hear about this often, and therefore we make it our mission to ensure our meals are not only promptly delivered, but also taken inside and put away by our friendly drivers, if this is requested. We know our customers think it's delightful that someone actually packs their meals away in their freezer, so why not see how easy it is to have Gourmet Meals delivered to your loved ones? Take a look at our menu today and within a few clicks the meals will be on their way from our kitchen to yours.
Tags: Frozen Meals Delivered, Frozen Meals For Elderly, Meals Delivered, Seniors Meals, Gluten Free Meals Delivered
Related Articles