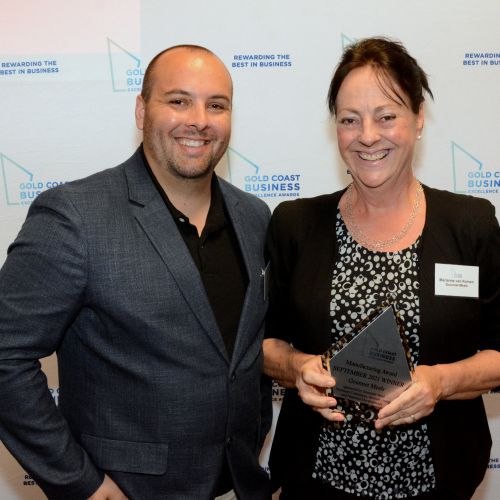 The Gold Coast Business Excellence Awards are the region's leading honours for business achievements

The Gold Coast Business Excellence Awards launched in 1996 and in 2021 they are celebrating their 26th year. During this time the Awards have grown to be recognised as the region's most comprehensive and prestigious business awards scheme, offering specific and meaningful benefits to the wider Gold Coast business community.
Primarily beginning as a vehicle to recognise family business, the Gold Coast Business Excellence Awards have developed to now encompass a category for almost every type of business enterprise.
Today, the Awards seek to contribute to the self-image and identity of Gold Coast businesses and to foster pride in the business community. They also seek to highlight the growing importance of the Gold Coast as a business hub and recognise leading businesses with a view to encouraging others. The Awards and all intellectual property fall under the ownership of the Gold Coast Business Excellence Awards Association Inc
Award Categories
By participating in the Gold Coast Business Excellence Awards, an organisation, and its employees, is provided with a unique opportunity to benchmark its performance against other like businesses.
Each month from May to October, awards are presented in 11 categories. At the end of the year, all the monthly winners (6) vie for annual awards in each category and compete for the Business of the Year Award honour.
For the month of September, Gourmet Meals was the proud winner of the prestigious award for the Manufacturing Category. The Manufacturing Award honours manufacturing businesses on the Gold Coast that lead and shape the future in this industry sector. These businesses have demonstrated achievements across a wide variety of areas including the readiness of new technologies in sustainability, operational excellence, innovation and supply chain management.
First opening its doors in 1993, Gourmet Meals is a family operated business based in Biggera Waters that manufactures and delivers high quality, snap frozen, individually portioned meals. Their delivery area spans from Northern New South Sales, west to Ipswich and north to Caboolture. Gourmet Meals supports many sectors of the community by offering a convenient and healthy meal solution at a very competitive price, as well as exceptional personalised service. For more information, please visit the website www.gourmetmeals.com.au.
Tags: Gold Coast Business Excellence Awards, Gold Coast Business, Gluten Free Meals Delivered, Frozen Meals Delivered, Meals For Seniors, Frozen Meals Delivered
Related Articles