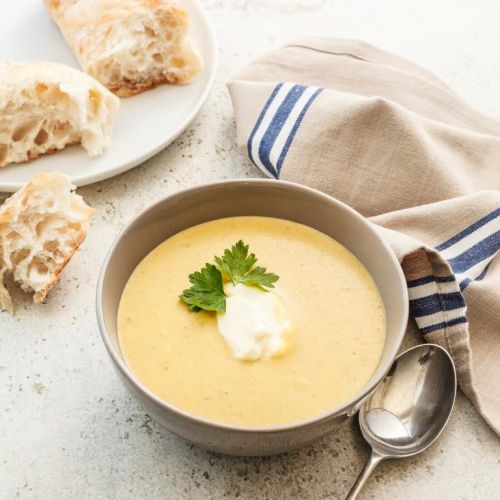 There's nothing like comforting yourself with steaming hot soups on very cold, damp days. Not only do they keep you healthy and happy, but they also leave you and your family feeling warm and toasty all the way through winter.
While we can all agree that soup is an excellent companion during the winter months, there's actually more to it than that. Let's take a closer look at the health benefits of soup and why it should be a staple at your dinner table.
1. Soup helps you get your vegetables in for the day. Adding a variety of vegetables to your soup can help you achieve the recommended five to 8 daily servings of vegetables.
2. Soup keeps you hydrated. Because the major content of soup is water, filling up on broth-based soups like chicken noodle or vegetable soup can help you meet your fluid intake requirements.
3. Soup aids in weight loss. Due to its low-calorie nature and its ability to increase satiety, regularly consuming soup can reduce your total calorie intake and can help in shedding some unwanted kilos.
4. Soup is good for digestion. Fluids like soup and broth are generally easy to digest, but fiber-rich soups like vegetable and lentil soups can keep your digestive system healthy and prevent bloating and constipation.
5. Soup improves your well-being. Soup, being a popular "comfort food", is often associated with feelings of comfort and being cared for, which can boost your spirit and lift your mood.
"Only the pure of heart can make good soup." – Beethoven
Here at Gourmet meals, we put our heart and soul into our soups. Whether you want to sate satisfy your cold weather cravings with a bowl of minestrone soup or just make yourself feel a bit better with a good old vegetable soup, you're sure to enjoy every soup dish in our menu while keeping your daily calorie intake within your goal range.
We snap freeze our meals right after cooking to lock in all their nutrients and ensure that they remain fresh in your freezer until you're ready to consume them. Just follow the heating instructions indicated on the packaging and you're good to go!
Gourmet Meal's great-tasting soups will not only take the bite out of a frosty night, but will also give you an easy way to put a nutritious meal on the table in no time.
Phone 1300 112 112 or visit Gourmet Meals to place your order now!
Tags: Soup Health Benefits, Healthy Soups, Winter Soups Delivered, Frozen Meals Delivered, Snap Frozen Meals, Gluten Free Meals Delivered
Related Articles