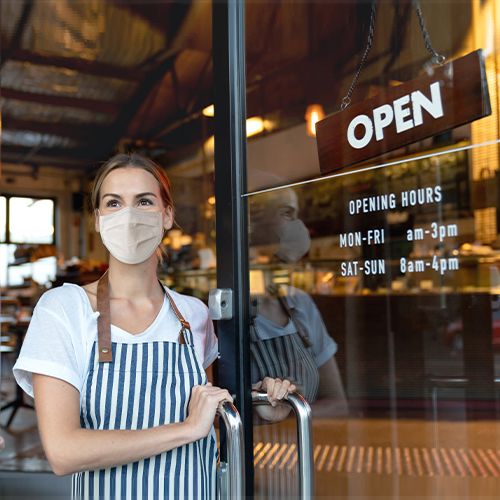 Mental health medical research organisation, Black Dog Institute, cautions that re-entry into the real world might not be all smooth sailing. They say we can expect to see lots of changes as we emerge, from a favourite café that didn't survive the shutdown to greetings between friends that now consist of a nod or a wave, rather than a hug.
There has also been a huge increase in working from home, online shopping (in fact, online everything!), cashless payments and sanitisation and cleanliness in public places.
Nevertheless, with every change comes new opportunities, and most of us have been forced to think long and hard about what our future might look like. The enforced isolation and time for reflection has created a once-in-a-lifetime opportunity to push the 'reset' button on things like our eating habits, daily activities and priorities.
For example, as 'normality' is slowly re-introduced into our lives, the way we enjoy our food can be quite different. For those wanting to eat out, the experience of visiting a restaurant or buying takeaways could be unconventional compared with pre-Covid. We could see minimum spend and maximum time limits introduced in restaurants who have suffered under lockdown, as well as constraints on how many patrons can be inside a venue at one time.

This means, that Australians will likely continue the growing trend of eating at home, including ordering healthy pre-cooked meals online and having them delivered. Seniors, in particular, benefit from the convenience of having prepared meals, food staples and essential daily items delivered to their doors. This has even been recognised by the Australian government, who has allocated $59 million for seniors affected by the coronavirus lockdown.
So, whether you're a senior, or supporting someone who is, or, if you'd like to improve your eating habits with healthy pre-cooked meals, we at Gourmet Meals are here to help. Have your balanced, delicious and nutritious meals delivered to your doorstep, and enjoy them in the comfort and safety of your home. We'll even put the meals away if requested too as part of our friendly, personal service!
If you have any questions, get in touch with one of our friendly staff on 1300 112 112.
Tags: Life After Covid-19, Covid-19 In Qld, Covid -19 Recovery, Meals Delivered, Frozen Meals Delivered, Healthy Frozen Meals, Gluten-free Meals Delivered
Related Articles