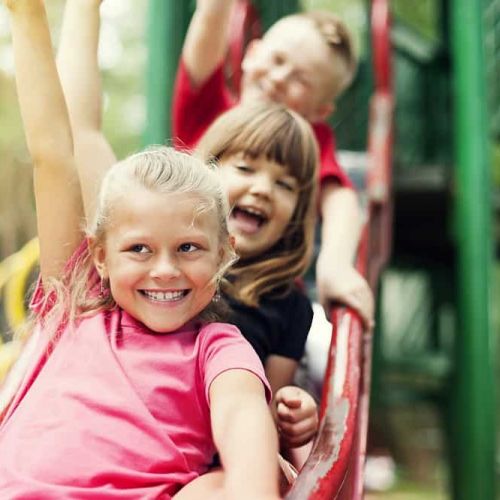 A Local's Guide to Easter School Holiday Activities on The Gold Coast and Brisbane
Being from around here, we know all the best things to do over the school holidays on the Gold Coast and Brisbane. And we're here to make your life so much easier by compiling a guide of the best school holiday activities that you can do with your kids locally without breaking the bank.
Keep reading to find out what to do, where to go, and what's on for kids during the Easter holidays.
1. Walk to The Natural Bridge at Springbrook. If you want to visit one of the most magical places on the Gold Coast, the Natural Bridge at Springbrook National Park should be high on your list. Home to a spectacular waterfall, glow worms, and a colony of tiny bent-wing bats, the Natural Bridge is a local's favourite that you and your kids shouldn't miss visiting.
2. Mini Golf at King Tutt's Putt Putt. If you're running out of options for kiddie activities on the Gold Coast, challenge your kids to a golf-off. With over three different courses to choose from, this amazing mini-golf course offers hours of fun. Family-friendly, it's sure to be a fun place for some light-hearted family competition and is conveniently located in the heart of Surfers Paradise.
3. Burleigh Heads. If you're looking for a great beach to visit, check out Burleigh Heads. Known to be a fantastic spot for kitesurfing, snorkeling, and kayaking, it is a truly wonderful place to visit with the family. You and your kids will delight in the long stretches of clean and well-patrolled beaches, which aren't as rough as some of the other beaches around the Gold Coast.
4. Pelican Feeding at Ian Dipple Lagoon. Located on Marine Parade, Labrador, the entire circle of this sparkling lagoon is shallow, while the middle is deep, making it an ideal swimming lagoon for both young children and adults. Pelican feeding is a popular holiday activity in the area, which happens daily at 1:30 PM.
5. Gold Coast Butterflies. Located within the Carrara Markets, Gold Coast Butterflies offers an all-weather butterfly enclosure, educational station, and gift shop. This butterfly house enables visitors to surround themselves with the wonders of nature without the need of going into the wild. A charming little place that provides a peaceful and relaxing experience, Gold Coast Butterflies is the perfect sanctuary for the young and old alike.
6. White Ridge Farm. Pack a picnic and have a relaxing day at the White Ridge Farm, located on the north side of Brisbane. Bring the family to see White Ridge Farm's friendly farm animals and some exotic llamas, alpacas, and a camel. The kids can even get hands-on and feed them! The farm also offers a variety of activities like horse-riding, putt-putt golf, and tractor rides.
7. Tommerup's Dairy Farm. Right on Brisbane's doorstep, Tommerup's Dairy Farm is the real deal if you want to let the kids experience a taste of life on the farm. Being an authentic sixth-generation working dairy farm, it provides visitors with a genuine farm holiday adventure, warm country hospitality, and a charming farmhouse.
8. Do A Moreton Bay Day Tour. Set sail on your very own island adventure and cruise out to Moreton Bay from Brisbane in under an hour with River to Bay's Best of Moreton Bay Tour. Filled with fun, adventure, and excitement, this island day trip is the best way to see and experience Brisbane's stunning waterways and explore three of Queensland's most beautiful islands.
9. The Store of Requirement. The Store of Requirement is a wizard-inspired store located in Samford, Queensland, just 30 minutes from Brisbane City. It has Australia's largest range of official Harry Potter jewelery, watches, and merchandise. The entire family will surely love the magical atmosphere, tasting a delicious buttery brew, and choosing from the selection of wizard inspired cakes and treats.
10. Slideways Go Karting. If you're looking for action-packed activities that you and your kids can enjoy, Slideways Go Karting is the way to go. Just 10 minutes from Brisbane's CBD, you will find the European-style indoor kart track that Slideways Go Karting is known for. Adults, kids, and adventurers-at-heart can have a lot of fun on their unique track surface that allows the karts to drift and get slideways.
Healthy eating while you're away on these school holidays can pose some challenges. It can be hard to decide what to pack in your lunch bag, find stores that serve nutritious foods, or determine how to maintain a balanced meal while eating out.
Gourmet Meals helps you maintain a nutritious diet while you're on the go. We offer a wide range of well-balanced, nutritious, and great tasting snap-frozen meals that are available in the freezer section of selected IGAs, FoodWorks, and independent stores right around Australia. We can also deliver straight to your doorstep! Check out our menu here.
With Gourmet Meals, you no longer need to worry about what food to pack on your next family holiday with the kids. Place your orders now!
Tags: Easter Specials, Easter Menu, Easter Meals Delivered, Easter Meals, Easter Holidays, Snap-frozen Meals, Healthy Eating, Nutritious Foods, Balanced Meal
Related Articles