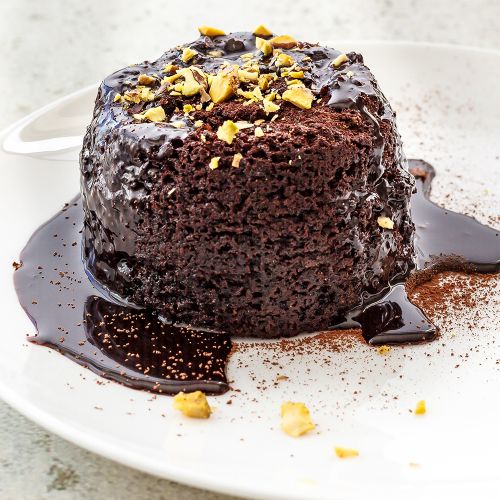 Don't miss Gourmet Meals' tantalizing Easter menu! And special promotion! Mention the promo code EASTER18 and receive a FREE MEAL of your choice for every $80 spent* delivered right to your door.
Choose from our three Easter dishes including Roast Chicken Breast with Apricot and Almond Stuffing, Sweet and Sour Fish, and a decadent Chocolate Pudding for dessert.
Meeting all dietary requirements, the sliced roast chicken breast with apricot and almond stuffing, served with roast potatoes, carrots and broccoli is low-fat, salt-reduced, high protein, high fibre and gluten-free.
Next on the menu is a delicate and delicious Sweet and Sour Fish, perfect for a light yet satisfying Easter dinner or lunch.
Relish a lightly battered fillet of Barramundi in a sweet chilli sauce accompanied by Asian greens and fluffy basmati rice. The Easter-themed Sweet and Sour Fish also ticks all the culinary and dietary boxes being fat-reduced, salt-reduced, high in protein, high in fibre and gluten-free.
For those with a sweet tooth, the mouth-watering Chocolate Pudding will be hard to resist.
It's hard to believe this rich and delicious chocolate pudding served with a creamy custard is gluten-free. But our in-house chefs who strive for the perfect balance of taste and nutritional value make this possible.
Our exclusive Easter promotion is valid from 12th to 29th March 2018. Please be aware the Gourmet Meals kitchen will be closed from Friday 30th March and will reopen on Tuesday 3rd April – Tuesday April 3 so place your orders ASAP to avoid missing out!
Not only is Easter a busy time for Gourmet Meals but the Gold Coast Commonwealth Games running from 4th through to 15th April will make it extra busy! There will be several road closures around the Games precincts and there may be some suburbs we won't be able to deliver to. We will do our best to supply meals to as many of our customers as possible, but where this can't be done, may we suggest you stock up ahead of the Games if you can or arrange for another drop off point.
Some road closures start as early as mid-March so please have a look at the Commonwealth Games webpage at https://www.getsetforthegames.com/grn and check whether your area might be affected. Feel free to contact us for more information regarding deliveries to your area closer to the date.
To take advantage of Gourmet Meals' delicious Easter offer, call 1300 112 112 or visit www.gourmetmeals.com.au.
*excluding delivery
Tags: Meals Delivered, Frozen Meals Delivered, Easter Specials, Get Set For The Games, Commonwealth Games Gold Coast, Gluten Free Meals Delivered
Related Articles