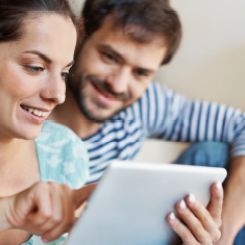 Maintaining a healthy weight should be a realistic goal we set, rather than the usual weight loss goals we aim for. Many people let their weight go in different ways for different reasons. There are younger Australians who are simply too busy to make healthy meals at home and often opt out for take away, especially with food delivery aps making it so easy. On the other hand, the elderly, are malnourished, and need to eat better to maintain a healthy weight or actually gain some weight.
Gourmet Meals is not about 'weight loss' but more about eating the right amount (portions), getting the proper intake of calories, obtaining the required nutrients from well balanced and nutritious meals, and, the large variety of meals available will ensure you actually enjoy meal times with the option of having something different every day. All resulting in a 'happier and healthier you'.
Gourmet Meals make it easy to stay on track with their simple ordering system allowing you to choose the size of the meal, number of calories and low fat as an example, with an easy filter system online. Just a few clicks and the snap frozen meals will be delivered to the door ready to be placed in the freezer and can be ready in minutes. We also cater for many other dietary requirements such as low salt, salt reduced, high fibre, high protein, dairy free as well as low fat, and fat reduced. And all of our meals are 100% free from gluten and suitable for coeliacs. So, whatever the doctors' orders are or nutritionists' advice, Gourmet Meals have got you covered.
Take a look at our menu and either call 1300 112 112 or order online for yourself or your loved ones who may need a little extra care or been advised to follow a specific diet. Our nutritious and calorie controlled portioned meals are delicious and taste just like home cooked meals. Not to mention extremely cost effective with no wasted groceries! Don't just take our word for it – try them for yourself.
Tags: Healthy Eating, Healthy Meals Delivered, Meals For Seniors, Frozen Meals Delivered, Portion Controlled Meals, Calorie Controlled Meals
Related Articles